Microsoft 365 is the leading provider of email and cloud collaboration tools for businesses of all sizes.
With Microsoft 365 you get all services you would expect from such provider:
At Blue Star London we recommend two price plans to anyone interested in setting up Microsoft 365. If you don't rely on desktop productivity tools such as Microsoft Outlook, Microsoft Word and Microsoft Excel for day to day operations, Microsoft 365 Business Basic at £4.50 user/month will offer a sensible compromise between price and functionality.
For more advanced users Microsoft 365 Business Standard includes not just the cloud service, but license for desktop applications for Windows and Mac OS X.
To sign up visit Microsoft website. Select a suitable price plan and proceed.
The first step is to enter your existing business email address. However if you do not have an existing business email address, it is possible to use personal email address to sign up.
Eventually it will offer you to select your username and domain name, then enter password. This is a subdomain of onmicrosoft.com and not your primary business domain. As such it doesn't matter what domain you select. For simplicity, use short version of your business name.
Then you will need to enter your payment card details, confirm your business account details
Finally you will have option of confirming your subscription details again. Once confirmed, your account will get into provisioning stage. This usually takes seconds but may take a bit longer if Microsoft infrastructure is busy with onboarding new clients.
After initial setup it is possible to update price plan and subscription details as well as change number of seats (licenses). For example, by switching to yearly payment cycle, you get 1 invoice instead of 12. At present it is possible to switch to a plan that requires one payment every 3 years.
If managing Microsoft 365 on your own is too much effort, you can delegate it to an consultancy like Blue Star London. The first step is to let us know. We can help with domain configuration for use with Microsoft 365 and advice on user setup.
How to Add Domains
By default Microsoft 365 sets up your mailboxes using their own onmicrosoft.com domain. This ensures you have access to your mail even if something happens with your domain. At the same time the main reason to sign up for Microsoft 365 is to enable mail hosting on your own business domain.
To add domains, login into your control panel at https://login.microsoftonline.com with your account and password. Click on the top left menu and select Admin app.
Once inside Microsoft 365 Admin Center, you need to enable all menu options by clicking on Show All menu item.
This enables Settings menu with option to setup Domains.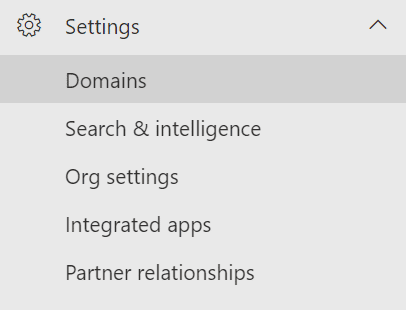 Now you need to add every business domain you have, so all emails will arrive into your Microsoft 365 mailboxes.
Every time you add a domain, it asks for domain verification. The recommended approach is to use a TXT record but it requires access to domain's DNS. If you do not have access to DNS, it is better to ask your IT support or service provider to handle it for you.
Once you move to the next stage it will display details of the record you should create.
This is a simple and efficient way for Microsoft to verify you are adding domain you actually control. Once verified you are presented with multiple options.
Unless you use Microsoft DNS service, you will be asked to create more DNS records. Those are needed to tell the Internet that you use Microsoft 365 as your mail server. So select "Add your own DNS records" and proceed.
Microsoft is asking to add 3 records at very least:
DNS record
Value
Purpose and Recommendations
MX record for @ host name
yourdomain-co-uk.mail.protection.outlook.com
This is the most important record that tells everyone you are using Microsoft 365 as your mail server.
It is possible to have more than one mail server but for most it is not needed. With one mail server priority field doesn't make any difference, but setting it to 1 or even 0 is a good idea.
CNAME record for autodiscover
autodiscover.outlook.com
Autodiscover is a special mechanism that tells Outlook and some other mail clients to autoconfigure mail settings for a given domain. By enabling autodiscover it is possible to avoid setting up mail servers within your mail client.
TXT record for @ with SPF
v=spf1 a include:spf.protection.outlook.com -all
SPF policy controls who can send emails from your domain. Naturally you want to permit Microsoft to send emails on behalf of your domain. It is likely to be a good idea to permit your web server to send emails on behalf of your domain too. For this reason we recommend to modify SPF policy suggested by Microsoft and add "a" parameter.
DNS records for Microsoft 365
If you plan to use Skype for Business or your price plan includes Mobile Device Management, you will need to setup more DNS records. For most it is not needed.
If you happens to have multiple domains, make sure that the correct domain is selected as the default. The default domain is the one used within reply-to part of every email you send.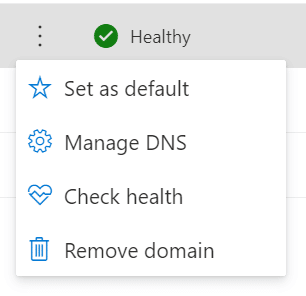 All done!
How to Add Shared Mailboxes
With Microsoft 365 every user gets personal mailbox. However it is important to get shared mailboxes and team mailboxes such as info@mydomain.tld and accounts@mybusiness.ltd. This is again available via Microsoft 365 Admin Center.
There are multiple group types, the simplest is Distribution – members of such group will get a copy of every email sent to team's mailbox.
If you expect people from outside of your organisation to send emails to such team mailbox, it is essential to enable that option.

Once a list is created, the next step is to go bakc into Active teams and groups page, select the group or distribution list and update its membership.
How to Add External Users
To enable management of your Microsoft 365 by someone else, you should go into the list of users. First login into Microsoft 365 account. Then switch to Admin Center panel using top left corner menu or search bar. Next step is to select Guest users.
Once inside Guest users section, select New User and then you need Invite User option.
Here it is important to change user's Role. To do so click on the default role and select Global administrator role. There are many different roles. For example, if you outsource accounting it may be feasible to add your accountant as Billing administrator.
Below you can see how New User invitation dialog may look like:
After this you can proceed with user invitation. Once invitation is accepted, you should be able to see this guest user within both Guest Users list and also within Azure All users panel.